Katie Hazlewood | 21 Sep 2021
Beyond coronavirus? Prospects for pay and conditions in 2022 and ahead, conference round up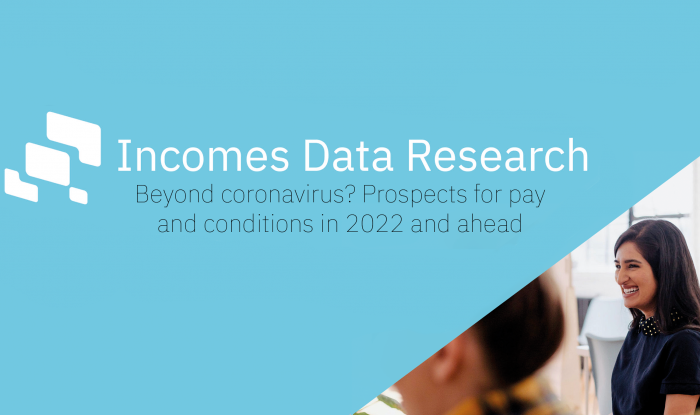 At our latest online conference, 'Beyond coronavirus? Prospects for pay and conditions in 2022 and ahead', delegates heard from a range of speakers from IDR as well as some external special guests.
The conference opened with Zoe Woolacott, our Researcher who monitors pay awards. Updating delegates on pay trends in 2021 so far, she noted that most awards were worth between 2% and 2.99%. However, there has been a slight rise in pay freezes in 2021 compared with 2020. She explained that our latest pay planning survey findings suggest the rise in pay freezes could lead to retention problems in the year to come.
Louisa Withers, one of the Founding Directors of IDR, spoke next, outlining the importance of benchmarking. She remarked that our research indicates that market benchmarking is playing an increasing role in pay decisions, with 73% of those surveyed using benchmarking as a factor to determine the level of pay rises in 2021, compared with 53% in 2020. She also took delegates through a detailed guide to benchmarking, describing a process of identifying roles for benchmarking, determining suitable job matches and analysing your market position.
Dr Kenisha Linton from the University of Greenwich gave a thorough talk explaining why ethnicity pay gaps are important and how to understand the picture in your organisation. She followed with an insightful discussion exploring barriers to progression for BAME staff and how to take meaningful action within your company to benefit the workforce. After a short break the second half of the conference was opened by Tim Butcher from the Low Pay Commission, who gave an overview of how Commissioners arrive at their recommendations for increases in the National Living Wage and described the challenges the pandemic has presented in terms of obtaining suitable evidence. He also shared the latest forecasts for the NLW.
Nextup was employment law expert Darren Newman, who presented some of the key pay-related employment law challenges with examples from recent cases covering issues such as equal pay. Darren also discussed employee rights including flexible working, equal pay and the potential ramifications of 'no jab, no job' policies.
Ken Mulkearn, IDR's Research Director, closed the conference with an outlook for the labour market and reward in 2022, presenting detailed findings from the IDR survey of employers' reward intentions for next year. He explained factors behind 2021 pay decisions and discussed furlough figures and issues surrounding recruitment and retention.
A huge thank you to all the speakers who supported our conference with their expertise and time, to all of our contacts who engaged in the 'Pay planning for 2022' survey and to the delegates who joined us and contributed questions, discussion and interesting debate. We hope the seminar has helped with decisions for 2022 and beyond.