Katie Hazlewood | 19 Aug 2020
Coronavirus: Wage freezes increase, but lower-paid workers receive pay rises| Press mention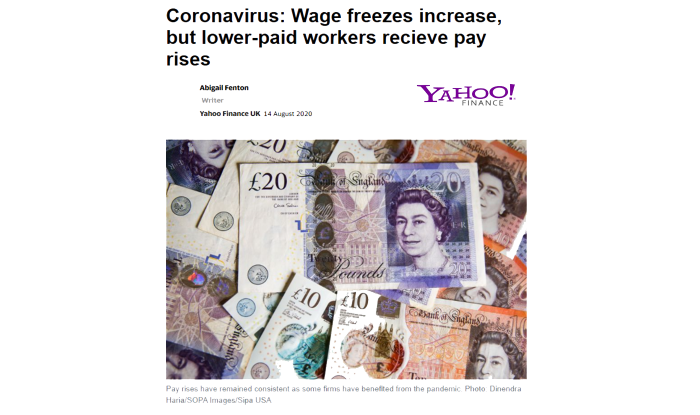 Pay rises in the UK have remained consistent throughout 2020, but wage freezes have increased, research suggests.
Pay freezes accounted for 14% of all pay review decisions monitored by Incomes Data Research (IDR) in the quarter to June, up from 8% the previous quarter. This brings the yearly proportion up to 14% too, the monitoring report said.
Such a sharp rise in the number of pay freezes has not been seen since the 2008 global recession, when they accounted for one in 10 settlements in January and February, rising to a quarter by mid-April, according to IDR's data.
However, the research found pay freezes have mostly been among executives and senior managers, while lower-paid staff have received pay rises in line with the UK's national living wage, which was increased to £8.72 in April.
What's more, nearly a third of these pay rises have been "higher-end" awards of 3% or higher, with the biggest proportion in private services.
Medium pay rises have remained at 2.5% since the start of the year, despite the economic effects of the COVID-19 pandemic. This is likely because, although many firms have been hit hard by the crisis, many businesses have benefitted from it, with their fortunes being boosted since 23 March, IDR said.
Pay freezes are expected to increase, as many firms will defer pay reviews until the end of the year. Companies that have been hit hardest, such as those in hospitality and aviation sectors, told IDR they will attempt to manage the crisis — by cutting hours, laying off staff and potentially reducing pay for higher earners — before pay reviews, while others are waiting to see if they bounce back in upcoming months.
"The last time we observed such a sharp rise in the number of pay freezes was during our monitoring of awards in 2009, in the midst of the last major recession," Zoe Woolacott of IDR told PA's news agency.
"[About] a third of the pay awards we have monitored are for lower-paid staff whose wages are influenced by the national living wage, which rose by 6.2% to £8.72 on April 1."