Katie Hazlewood | 12 Oct 2021
Half of employers anticipate awarding higher pay rises next year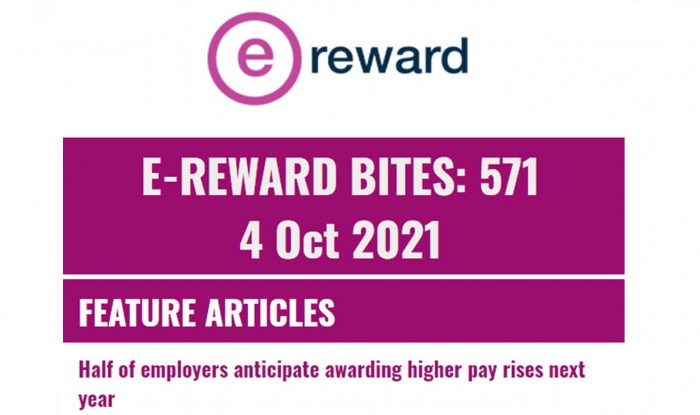 Half of employers anticipate awarding higher pay rises next year
By Zoe Woolacott, Incomes Data Research (IDR)
Strengthening wage pressures are likely to result in higher pay rises for many staff in 2022 as organisations endeavour to return to business as usual in the aftermath of the pandemic, according to the latest survey of employers' reward intentions conducted by Incomes Data Research (IDR). And with increased focus on the relationship between pay and the cost of living, some workers could stand to receive increases in a range of 3% to 6%, higher than seen for many years.
Exactly half of employers anticipate awarding higher increases to staff in 2022 compared with this year.
Just 7% of respondents say that their 2022 pay awards are likely to fall below the level of those made this year. This represents a marked contrast with IDR's 2020 survey, when half of organisations thought that this year's pay awards would be lower than the year before.
LEVEL OF PAY RISES PREDICTED FOR 2022 COMPARED WITH 2021
Many are experiencing a shortage of skilled or qualified candidates, with organisations across all industries reporting difficulties in recruiting or retaining technical/IT specialists, engineers, operational specialists (e.g. compliance/health and safety roles) and HGV drivers. Additionally, several respondents indicate that entry-level, customer-facing roles such as call centre operators, customer service advisers and retail staff present a particular retention challenge.
RECRUITMENT DIFFICULTIES HAVE GROWN IN 2021
Many respondents feel the reward packages offered by other employers are exacerbating problems with staff retention: 'higher pay on offer at competitors' is by far the most common reason cited for retention difficulties (71% of respondents), which likely explains why many more employers intend to benchmark their pay rates against the market in 2022 than in previous years (87% of respondents, compared with 45% in last year's survey).
THE PICTURE ON RETENTION IN 2022
Only one in ten respondents anticipate that their current recruitment issues will be resolved in the short term and only one in five foresee a short-term resolution to retention difficulties.
The full report, 'Pay Planning for 2022', is based on research conducted by Incomes Data Research during summer 2021. It includes information from 83 organisations across the UK, together employing a combined workforce of 969,000 employees.