IDR | 24 Feb 2021
Majority of employers support the mental health of working parents | Press mention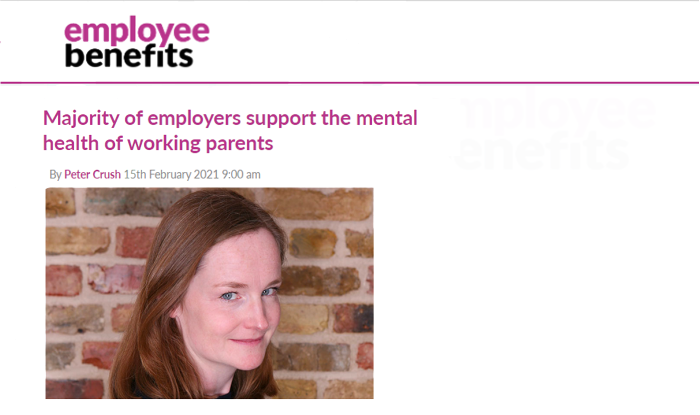 New research has found that of the options employers provide to combat pressures on remote working parents, mental wellbeing support overwhelmingly comes top.
Incomes Data Research (IDR) polled workers at 40 organisations during January and discovered that almost all (98%) employers had taken specific steps to help employees with their mental health.
This was by far the most popular intervention of four choices given. Other solutions included actively inviting staff to make changes to their working patterns (introduced by 75%); actively promoting parental leave (30%) and promoting the use of furlough for childcare reasons (16%).
Options organisations gave employees for helping them change their working patterns included allowing informal flexitime arrangements (58%); instituting temporary changes to shift patterns (43%) and offering workers a temporary reduction in their working hours (28%).
Katherine Heffernan, principal researcher at IDR, said: "Mental wellbeing provision mainly comprises reminding staff how they can access existing provision, such as employee assistance programmes, trained mental health first-aiders or online information. But we also found now there was a focus on creating opportunities to foster and maintain social connections between colleagues, such as virtual coffee mornings or online chat channels."
The research found that where staff have temporarily reduced their working hours, several respondents are continuing to pay them at their full rate.
Few organisations have put any rules or guidelines in place regarding 'core' hours that must be worked, instead allowing employees the flexibility to arrange work and home-learning commitments as best meets their needs.
As well as looking at how organisations are helping staff with the their hours worked, the data also revealed what employers were doing to reduce their workloads. It found 75% of employers had changed priorities to help staff handle this, while for 63% of employees work was redistributed.
Only 29% of organisations had paid staff to work additional hours and just 8% brought in additional staff to handle outstanding tasks.