The median pay rise across the UK has risen to 3.5%, according to the latest figures from Incomes Data Research (IDR). This figure is based on 70 pay awards taking effect between 1 February and 30 April 2022 covering 802,643 employees in total.
The median has been rising steadily since the end of 2021, jumping from 2.5% to 3% at the start of this year, and up further in the latest figures. As the chart below from IDR Pay Benchmarker shows, the UK whole-economy median pay rise had been fairly stable at around 2.5% for much of 2019 and 2020, only dipping to 2% in the final quarter of 2020 and remaining there until the start of 2022.
The median has risen under the influence of a growing proportion of higher-end pay awards worth 4% or more as employers react to rising inflation, the increase in the statutory minimum wage (of 6.6% on 1 April to £9.50) and recruitment and retention problems.
IDR Pay Benchmarker includes details of pay rises at UK firms. Examples in the latest period include a rise of 5.3% at Sainsbury's Supermarkets covering over 130,000 staff, 8.4% for 13,500 London Underground workers at Transport for London and 6.6% for farm workers covered by the Scottish Agricultural Wages Board.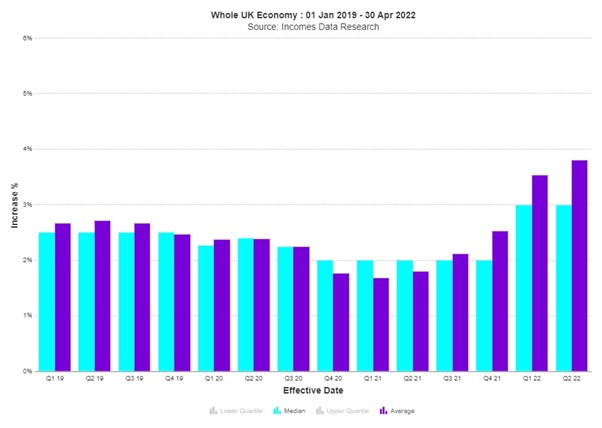 Pay Benchmarker is an impressive online pay tool which gives you access to up-to-date, searchable market data
IDRs salary benchmarking tool gives you the ability to stay up-to-date with the latest salary trends in your industry, offering you the ability to compare salary data to your competitors and have a comprehensive understanding of the market rate will help your organisation stay competitive. Enquire with our team for your free trial and demonstration and see how Pay Benchmarker can help you today.