Katie Hazlewood | 08 Feb 2021
Pay rises down 0.3 percentage points on last year | Press mention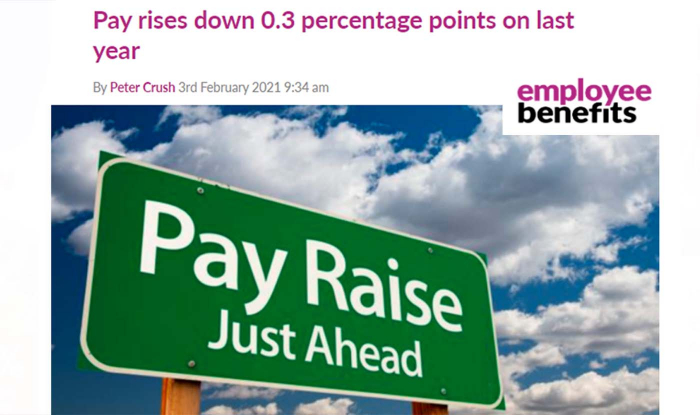 Pay rises are down an average of 0.3% on last year, according to research published today by Incomes Data Research (IDR).
The analysis of 56 new pay deals already agreed for 2021 found that almost half have either given, or are set to give, employees increases of between 2% and 2.99%.
Higher-end awards – those worth 3% or more – account for only one in 10 pay rises overall, which is significantly lower than last year when just over a quarter of increases were at this level.
Not only are rises smaller than last year, but IDR's analysis also revealed high levels of pay freezes.
The data found pay freezes have so far accounted for 23% of outcomes in 2021 – up from 16% for 2020. The worst sector for this is in private services, where the number has grown from around a fifth of all outcomes in 2020 to more than a quarter (28%) for 2021.
Even where private services employers are awarding some form of pay rise, this is often worth less than a year ago. IDR finds the proportion of lower-level pay awards (those worth between 0.1% and 1.99%), increased from just one in 20 in 2020, to over a fifth (22%) of all awards for 2021.
The data comes as organisations will be preparing to pay the updated National Living Wage in April. But even this is rising by just 2.2% to £8.91 – the lowest percentage increase since it was introduced in 2016 for workers aged 25 and over.