Employees have typically received pay rises worth 2.0% so far this year, down from a median pay award across the whole economy of 2.3% overall for 2020, according to the latest monitoring figures from Incomes Data Research (IDR).
An analysis of 56 new pay deals already agreed for 2021 shows that almost half of reviews across the economy have given or are set to give employees increases of between 2% and 2.99%. Higher-end awards – those worth 3% or more – account for around one in ten pay outcomes overall. This is far lower than last year, when just over a quarter of increases were at this level. Meanwhile at the lower end of the distribution, more employers appear to have decided against pay rises for workers this year, with pay freezes accounting for 23% of outcomes in 2021 so far – up from 16% for 2020.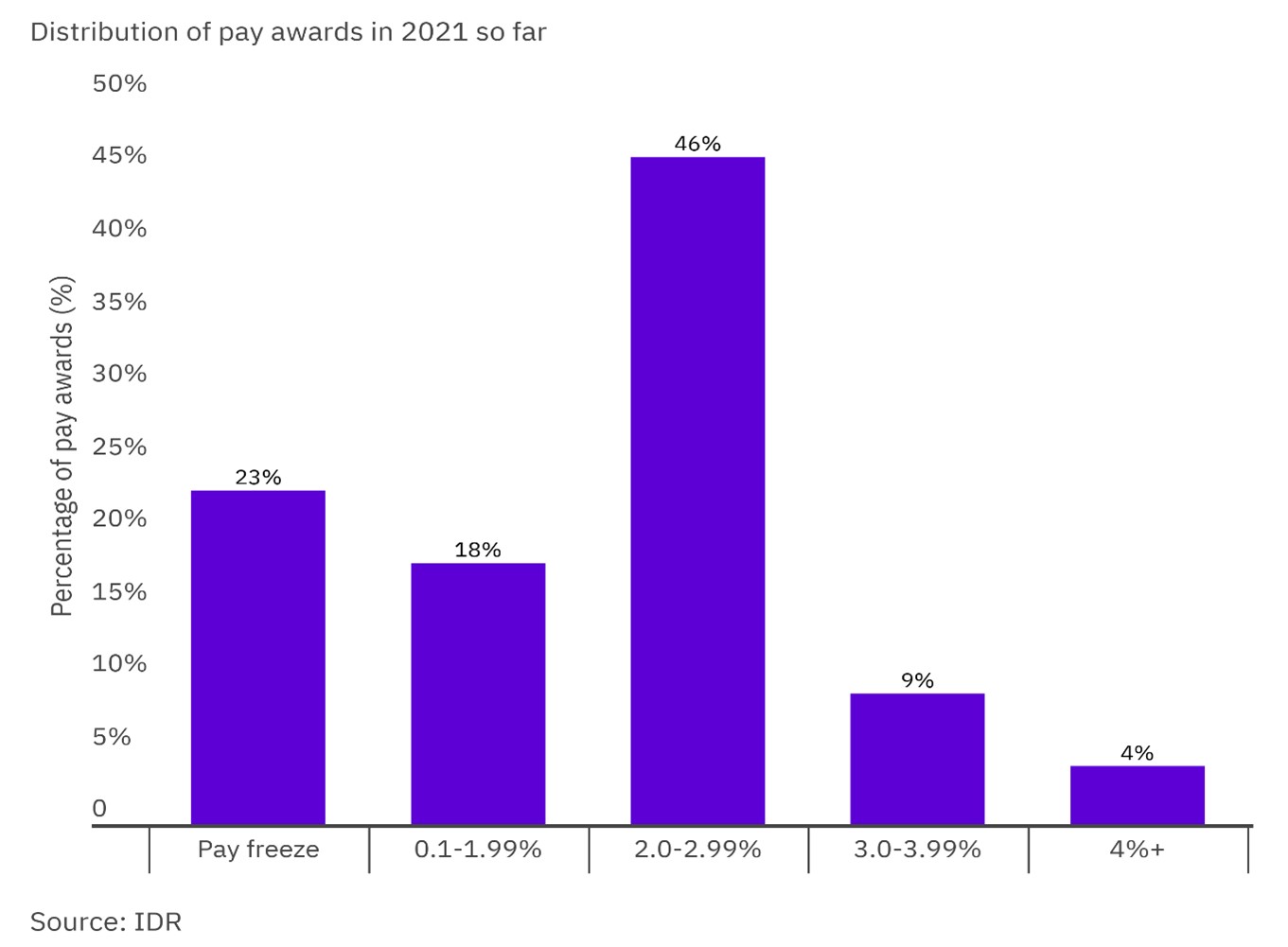 The distribution of pay awards has become bimodal, or is approaching a bimodal one, with a (smaller) peak for pay freezes alongside the largest one for increases in the middle of the range. This reflects the different ways in which the pandemic is impacting the economy, with some firms badly affected, while others are less so or even thriving.
Pay rises higher in manufacturing than in rest of private sector
Manufacturing firms dominate the majority of pay reviews at the start of the year – they account for just over half of reviews in this sample – and nearly three-fifths (59%) of deals in this area of the economy are worth between 2.0% and 2.99%, compared to 54% at this level in 2020. In private services, which covers the rest of the private sector (and in this sample, key sub-sectors such as retail and air transport), increases have generally been awarded at a lower level than manufacturing, resulting in a lower median pay award of 1.8%.
The number of pay freezes has grown in private services, from around a fifth of all outcomes in 2020 to more than a quarter (28%) for 2021. And even where employers in this sector are awarding some form of pay rise, this is often worth less than a year ago: there has been a significant change in the proportion of lower-level pay awards (those worth between 0.1% and 1.99%), which have increased from just one in twenty or 5% in 2020, to over a fifth (22%) of all awards for 2021.
Muted National Living Wage increase could set tone for pay awards in low-paying sectors
April is a key month for pay setting across the economy. Many organisations will have to respond to the National Living Wage rising by 2.2% to £8.91 on 1 April 2021, which is the lowest percentage increase in the rate since it was introduced in 2016 for workers aged 25 and over.
"Many supermarkets already pay much higher rates than the existing statutory floor of £8.72 to their hourly-paid staff and there is a hint that pay increases for these workers could be lower in 2021 than previously. For example, Aldi will be increasing its national minimum hourly rate by 1.6% to £9.55 from 1 February 2021, which is lower than the 3.3% increase the company paid in 2020", commented Zoe Woolacott from IDR.
Anticipating public sector pay awards
Elsewhere, employers in the public sector, and perhaps beyond, are likely to be watching the outcome of the forthcoming pay anniversary for NHS workers. This could be one of the few pay increases for public sector staff in 2021, following the Government's announcement that pay rates are to be frozen this year for those staff covered directly by central policy on pay, with the exception of staff in the NHS.
The latest figures are based on a sample of 56 pay awards effective between 1 January and 31 December 2021, mostly at large organisations and together covering nearly half a million employees. Very few awards in the sample are from the public sector so the results predominantly reflect the picture in the private sector.
Note for Editors
Incomes Data Research monitor pay reviews across the economy throughout the year and publish findings in 'Pay Climate', our quarterly e-bulletin, with additional monthly updates on our website: https://www.incomesdataresearch.co.uk/
For any queries relating to this research please contact Zoe Woolacott on 01702 669549 or at zoewoolacott@incomesdataresearch.co.uk or Ken Mulkearn on 07792 786532 or at kenmulkearn@incomesdataresearch.co.uk