On 15 September 2022, Incomes Data Research (IDR) will be hosting a day-long conference, presenting the findings of our latest survey, 'Prospects for pay and conditions in 2023'. The conference is aimed at helping employers think about and plan their reward strategies for the coming year. It offers delegates opportunities for hearing how other organisations have tackled and are planning on tackling reward issues. It also provides the chance to meet other people with responsibility for reward and discuss current topics with them. Networking can take place before, during or after the conference.
Venue
No.11 Cavendish Square,
London W1G 0AN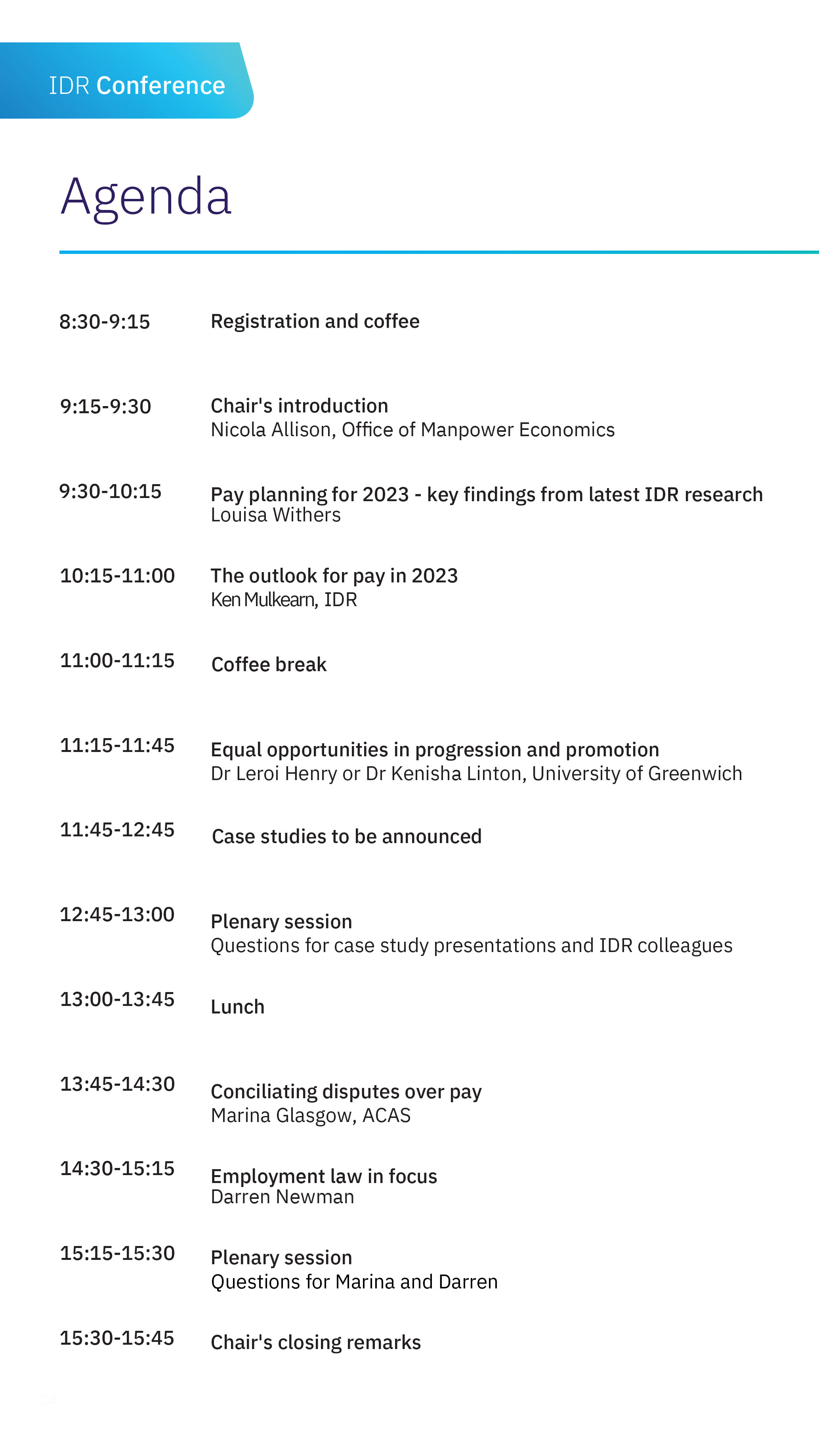 All attendees will receive a complimentary copy of IDR's Pay Climate bulletin which will include the summarised findings of our Pay Planning for 2023 findings (read more about Pay Climate here)
There will be tea/coffee, pastries and fruit in the morning and a hot buffet lunch, tea/coffee will be available in the afternoon as well.
The conference is priced at £350 + VAT.
Participants in our 'Prospects for pay and conditions in 2023' survey will receive a £50 discount on the conference admission price on completion of the survey. The survey will be open until Tuesday 2 August 2022 at 5pm.
IDR is an independent research organisation specialising in the pay and employment field. Part of our daily work is to provide HR professionals with information, analysis, data, and tools to help them make intelligent reward decisions. We believe in the development of people, ideas and knowledge and so we would like to share some of what we have learnt over the last year with you.
All questions regarding this conference can be directed to sales@incomesdataresearch.co.uk or 01702 669 549.
We look forward to seeing you there.
Venue
No.11 Cavendish Square,
London W1G 0AN
Registration to begin at 8.30am and we anticipate the day to end by 4pm