Katherine Heffernan | 09 Jun 2021
How have employers' sick pay policies changed during the pandemic?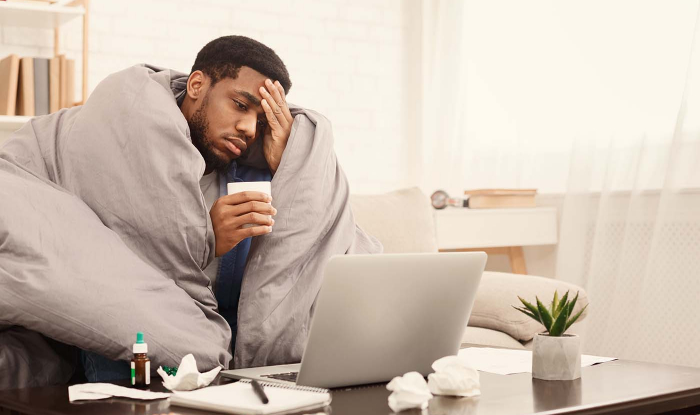 We conducted a survey of sick pay provision in June and July 2020, during the first peak of the coronavirus. The survey received detailed responses from 72 organisations in total – just over half of these (54%) were from the private sector (including many large employers such as Costa Coffee, John Lewis and Thames Water) while just under a fifth (19%) were public sector employers.
The Government's Statutory Sick Pay (SSP) rules were amended in 2020, removing waiting days for absences related to coronavirus to help limit the spread of the virus. All other absences or illnesses remain covered by the three-day waiting period before SSP applies. We found that just under a fifth of employers had recently opted to review and amend their company sick pay policies, often (almost two-thirds of cases) in light of the pandemic, and the majority chose to improve sick pay provisions above and beyond the statutory terms rather than reduce sick pay.
Improvements centred on offering full pay for any coronavirus-related sickness period, regardless of length of service (eg one employer in the horticulture sector has dispensed with its usual restrictions for staff on probation) or, as in the case of one organisation from the housing and social care sector, bringing sick pay provision for hourly-paid staff into line with that for white-collar staff to make it 'fairer'. This respondent, which now offers all staff up to three months' full pay rather than SSP, observed that 'many of them were key workers during this crisis, which made us realise they should be given the same benefits.' Fewer changes involved increases in the number of days of company sick pay and the extent of this varied: one not-for-profit respondent increased sick pay from five days' full pay to seven days in response to the pandemic, while a housing association has extended its provision for staff with a terminal diagnosis from six months to a year at full pay.
A few employers reduced sick pay provisions, but in some cases this is where they were relatively generous to begin with – for example, a housing association reduced entitlement from a maximum of six months' full pay to three months' full pay.
In almost all cases where respondents decided not to make changes to sick pay, this was because they already deemed their offering to be competitive. Our research shows that the great majority of respondents provide company sick pay, at least to some staff. Unsurprisingly, three-quarters of employers view the current SSP of £96.35 a week as too low. Across the whole sample, just 16 (23%) reserve enhanced sick pay for certain staff (usually white-collar staff or managers) and just three (a temp agency, a care home and a micro catering firm) do not enhance sick pay at all above SSP for any staff. Most respondents pay sick pay to all staff regardless of role.
Sick pay policies vary considerably in terms of the number of weeks paid, the rate at which it is paid (usually a mix of full and half pay) and the length of service employees need to receive company sick pay – although the majority increase sick pay with service, as can be seen in the chart below.[1] Provision is far more generous in the public sector: on entry, employees in the private sector typically do not qualify, while those in the public sector get 6 weeks. At the other end of the spectrum, employees with at least five years' service (the most common cut-off for accruing sick pay benefit) in the private sector get 24 weeks, while those in the public sector get 36 weeks. The most generous provisions on offer in the private sector include those at Vitacress, which pays 26 weeks' full pay to staff with at least five years' service, and the Co-op, where support centre and management staff who have passed their 13-week probationary period are eligible for up to 30 weeks' pay. (Store management and shopfloor staff are eligible for similar provision after ten years' service – they receive 9 weeks' pay at the five-year point.)
[1] To enable comparison, we grouped provision by service periods and added the number of weeks at full pay to the number of weeks at half pay to derive a figure for equivalent weeks at full pay – eg four weeks at full pay + four weeks at half pay would be equivalent to six weeks' pay in total. The chart shows median values.
About the survey: the IDR survey of sick pay policies was conducted in June and July 2020 and received responses from 72 organisations. Respondents represent employers from across the economy: 24% from each of the manufacturing/production and not-for-profit/voluntary sectors; 33% from private services and 19% from the public sector. A full, detailed report of the findings, as well as details of employers' health and wellbeing provision, is available from IDR at £383.
Participating organisations: A. G. Barr, Abbott, Aberdeen International Airport, Ageas Insurance, Altro, ARB, BD UK, BGL, Blue Dolphin Leisure, BP Express Shopping, Break, Broadland Housing Group, Buckinghamshire Council, Burhill Golf & Leisure, Chelsea Physic Garden, Children and Families Across Borders, Churchill College, CNH Industrial, Commonwealth War Graves Commission, Co-op, Copyright Licensing Agency, Costa Coffee, Davies Group, Defaqto, DSRL, Encirc, Eurovia, FedEx Express UK Transportation, Fenner Dunlop, Fife Council, Green Apple Catering, Greene King, H&R ChemPharm (UK), Heritage Manor, Hitachi Automotive Systems UK, Howard Tenens, INEOS Nitriles (UK), Jigsaw Homes Group, John Lewis, KCA Deutag, Kirklees Council, Knorr-Bremse SfCV, Leeds Arts University, Lucite, Merseyside Fire and Rescue Service, MHA, Moat Homes, Modus Care, Nottinghamshire County Council, Onward Homes, Peterborough City Council, Port of Tyne, PQ Silicas UK, Public Sector Partnership Services, Queens Cross Housing Association, Resonate Group, RGP, RM, Saxon Weald, Siemens Mobility, Sue Ryder, Thame and District Housing Association, Thames Water, The Bristol Port Company, The University of Salford, Together Housing, Translink, Unipart Manufacturing, US Embassy London, Vitacress, Wickes, Yarlington Housing Group.